La rencontre avec la Polynésie est un véritable choc esthétique : Jean Montpellier-Dubrusk est fasciné par la lumière tropicale, par la richesse, l'intensité, la densité des couleurs.
Dès lors, puissance et polychromie audacieuse, maîtrisées, imposent leur présence et façonne l'oeuvre d'une touche forte et très personnelle.

His encounter with Polynesia was truely a cultural shock !
Jean Montpellier-Dubrusk was fascinated by the tropical light, its richness, intensity, the denseness of its colours ...
Once the strength and audaciousness of the environment mastered, they imposed their presence on him and shaped his work with an extremely strong personal touch.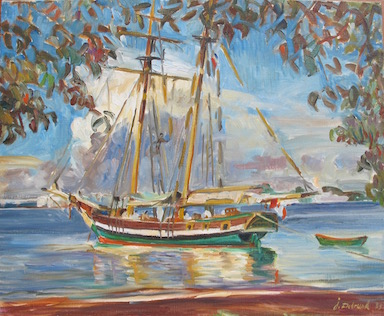 Autrefois Kim Fa Papeete (Huile sur toile - 60x81)
Kim Fa and the former Market Place (Oil on canvas - 60x81)

Le Martinet du Pacifique (Huile sur toile - 50x61)
The "Martinet du Pacifique" (Oil on canvas - 50x61)

Le flamboyant royal (acrylique sur papier marouflé - 65x81)
Royal Famboyant (Oil on canvas - 65x81)
Les pamplemousses volés (Huile sur toile - 54x65)
The stolen grapefruits (Oil on canvas - 54x65)
Que ma joie demeure (Huile sur toile - 73x92)
Happiness (Oil on canvas - 73x92)