Il éprouve un besoin impérieux de fixer la sensation éprouvée, même éphémère : Il lui faut absolument saisir la vie, c'est-à-dire la lumière, les formes, les couleurs, le mouvement…
Et quoi de plus vivant que les bateaux ? Du plus petit au plus grand, du plus coloré au plus gris... ils lui parlent et l'inspirent.

He was fascinated by all boats from the smallest to the largest - the most colorful to the dullest !
His drawing is quick, pure, the values within are accurate, solid, nothing remains ambigious.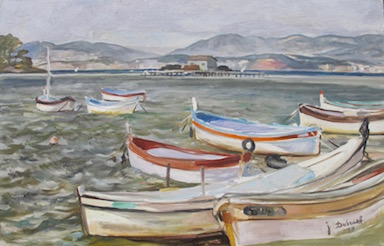 Les pointus de Tamaris (Huile sur toile - 65x100)
Tamaris and the legendary boats "les pointus" (Oil on canvas - 65x100)

Le mistral (Huile sur toile - 65x100)
The black "Mistral" (Oil on canvas - 65x100)

Toulon le port autrefois (Huile sur toile 65x81)
The port of Toulon in a bygone era (Oil on canvas - 65x81)
Retour de pêche (Huile sur toile - 97x130)
The catch ! (Oil on canvas - 97x130)
Le ponton de Balaguier (Huile sur toile - 65x100)
Balaguier's jetty (Oil on canvas - 65x100)