Même les natures mortes sont pleines de vie avec Jean Montpellier-Dubrusk !
Le dessin est nerveux et pur, les valeurs sont justes, les volumes solides, les couleurs hardies et ensoleillées.
Even his still-life works radiate energy and life.
His drawing technique is sound, solid ; his paintings full of bold and bright colours.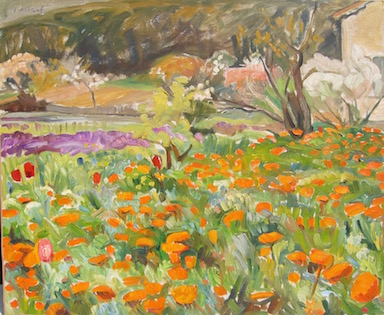 L'assiette aux rougets et citrons (Huile sur cartoil - 33x41)
« red-mullets and lemons » (Oil on canvas - 33x41)

Printemps en provence (Huile sur toile - 54x65)
Spring in Provence (Oil on canvas - 54x65)

Courges et navets (Huile sur toile - 33x41)
Pumpkin and turnips (Oil on canvas - 33x41)
Mr et Mme Arum (Huile sur toile - 92x65)
Mr and Mrs Arum (Oil on canvas - 92x65)
Les grenades (Huile sur papier marouflé - 50x65)
Pomegranates (Oil on canvas - 50x65)