Séduit par l'éternel féminin, il fait de nombreux portraits de femmes tahitiennes et de nus.

Autour des ocres s'organisent des oppositions fortes et violentes, des juxtapositions impossibles, dans une unité miraculeusement conservée, qui donne une force extraordinaire et une harmonie étonnante.

Charmed by the "eternal feminine" ... he drew tahitian women in various ways : portraits, daily life and numerous fascinating nudes.

Around dominant ochre's, strong violent oppositions and impossible juxtapositions, he organizes a miraculously preserved unity that yields tremendous power and an astonishing harmony.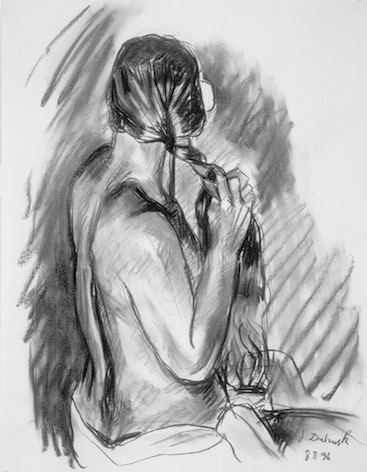 La pause (Huile sur toile - 65x21)
Tea-break(Oil on canvas - 65x21)

Vahiné à la natte (Fusain - 60x40)
Vahine (Charcoal - 60x40)

Vahiné au merle (Huile sur toile - 73x92)
The girl and the black bird (Oil on canvas - 73x92)
La sieste à Maharepa (Huile sur toile - 60x81)
Siesta time(Oil on canvas - 60x81)
Vahiné au balcon (Huile sur papier marouflé - 50x65)
Vahine on the balcony (Oil on canvas - 50x65)